Mark Teahen and Alex Gordon are cool
After torching Oakland pitching for five hits in his first eight at-bats over the four-game weekend series,
Mark Teahen
was finally cooled off in the final two games, as the Royals third baseman went just two-for-nine with one RBI on Saturday and Sunday. In fact, he's taken quite a few one-for-fours and one-for-fives in the past week or so. However, Teahen's performance over the past month was so absurdly good, his season OPS still stands at .880, one of the best marks among third basemen in all of baseball.
By now, every Royals fan knows about Teahen's month of July, a month in which he hit a robust .319/.442./.692 in 91 at-bats. In terms of overall production combined with the player possibly meaning something to a future Royals ballclub, Teahen's breakout last month is probably the most exciting thing to hit Kansas City baseball since
Johnny Damon
became such an unstoppable force in July and August of 2000. That we can say he's "only" hitting .325/.386/.563 so far in August is quite funny to me, if only because it's been a long time since a Kansas City player's OPS being over .900 represented a slump.
The reasons behind Teahen's resurgence since his recall from Omaha have been
well-documented by Craig Brown at Royals Authority
and
Sam Mellinger of the Kansas City Star
. Craig's analysis was outstanding, from detailing the percentage of pitches that Teahen has pulled to illustrating where all of his 2006 home runs have landed.
Craig also briefly discussed the low percentage of line drives Teahen has hit (14.7 percent coming into Sunday's game), pointing out that most successful hitters are at 20 percent or above. Last season, 23.2 percent of the balls Teahen put into play were considered line drives by Baseball Info Solutions, which leaves us wondering how in the world a guy could spike his OPS by more than 200 points in one season despite hitting fewer balls on the line. Ironically, the answer may lie not in what Teahen
is
doing, but in what he
isn't
.
Among players who collected at least 400 plate appearances in 2005, Teahen had the fourth-highest groundball-to-flyball ratio in the American League at 2.11-to-1, placing him in a group that included speedy players such as
Derek Jeter
,
Jacque Jones
,
Scott Podsednik
, and
Ichiro!
. In all fairness to Teahen, he's no
Ken Harvey
, who also hit grounders more than 66 percent of the time. On the contrary, Teahen's a smart baserunner and moves extremely well for a big guy.
However, this season, Teahen's doing what big guys are supposed to do in baseball, which is not hitting the ball on the ground. His 2006 groundball-to-flyball ratio stands at 1.46-to-1, which represents a 31 percent increase in fly balls. At 6-foot-3 and 220 lbs., Teahen's raw power may have finally shown itself simply because he seems to be generating loft when he makes contact.
Overly simple? Perhaps, but it's vital for players of Teahen's stature to hit the ball in the air as much as possible. That he's doing so is another reason behind one of the biggest one-season improvements in all of baseball.
Speaking of awesome stories involving young third baseman in the organization (you all know where this is going), Wichita's
Alex Gordon
this weekend gave Royals fans yet another reason to get excited about his future.
In the first inning of the Wranglers' Friday night game against the Corpus Christi Hooks, Gordon hit his 25th home run of the season in the first inning against Corpus Christi's
Joshua Miller
. In his very next plate appearance, Miller threw a pitch that came very, very close to hitting Gordon in the head. Despite being able to take his base, Gordon left the game shortly thereafter, and his status for Saturday night's contest was sketchy at best.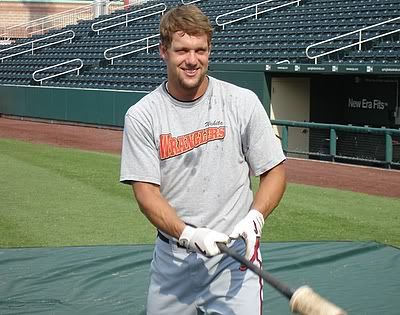 The smirk says it all
Not only was Gordon was in the lineup on Saturday night, but he promptly took
Chance Douglass
– that night's
victim
starter – out of the yard to dead center field in the first inning. So not only has he shown an ability to hit for average (.320 coming into Sunday night), power (isolated power of .267), speed (20 stolen bases), and solid defensive and throwing abilities, he's also proven just how tough he is. The guy almost got hit in the head with a fastball one night, and the next, hit another homer, seemingly out of spite.
Folks, Gordon isn't just talented, he's also a bad, bad, man. A bad, bad, man who's going to be one of the better all-around players in the game in less than five years.