Devil Rays 6, Royals 3
Even though the Royals were facing Seth McClung, an inexperienced, 25-year-old righthander with a history of control problems (he'd walked 10 batters in eight innings of work coming into his third start of 2006), I was pretty unoptimistic that they'd find a way to end their five-game losing streak on Saturday night. It was really just a hunch, albeit a strong one, as the Royals offense has a history of giving struggling young hurlers a swift dose of much-needed confidence.

Unfortunately, the past repeated itself, as McClung pitched seven strong innings, allowing only three runs. The Royals picked up nine hits and only struck out three times in those seven innings, but three double play balls and a lack of patience killed whatever rallies the Royals started.

Pitchers like Tampa Bay's 6-foot-6 McClung are very beatable if the offense facing them is willing to wait them out. Oftentimes, they'll create their own problems with walks and a lack of focus once runners are on base, but the Royals in recent seasons haven't been a club that's very fond of patience at the plate.

That shined through on Saturday, as Kansas City chose to attack early in the count, a strategy that can be a good one against Mark Buehrle, but an unproductive one against pitchers with bad control. Through the first two innings, McClung had used only 20 pitches, an outstanding rate of efficiency that sustained him when the Royals improved their approach in the third and fourth frames. For the game, McClung threw only 98 pitches, an average of 14 per inning.

Granted, his command wasn't awful, as he was able to spot his breaking ball just well enough to keep the Royals honest. Still, they didn't do a very good job of forcing him to throw called strikes, and chased several pitches that were well out of the strike zone.

Whether or not the front office and on-field management recognizes it, the fact that an offense led by veteran hitters like Mike Sweeney, Reggie Sanders, Mark Grudzielanek, and Doug Mientkiewicz isn't willing to let a young pitcher dig his own grave is pretty troubling. It speaks to the distinct possibility that GM Allard Baird's message about running deep counts somehow isn't translating to the field. More runs (and more wins) aren't going to come without it.
McClung's mound adversary, spot-starter Mike Wood, made the start because the organization determined that Runelvys Hernandez needed more time in Omaha to build his endurance, which is code for "lose the weight, chubby." Despite being pulled after walking the leadoff man in the fifth, Wood kept the Royals in the game, allowing just two runs and three hits.

But oh, those walks. Not wanting to be the one Royals pitcher who actually threw the ball all the way to the plate in the strike zone with any consistency this week, Wood dished out five free passes, and has walked eight batters in 8.1 innings of work so far in 2006.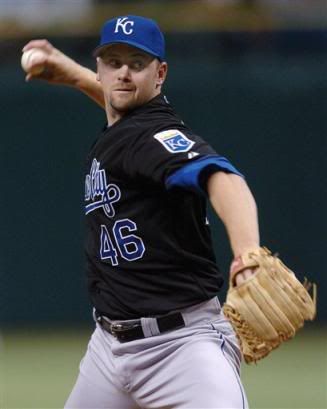 If we're looking for a silver lining, it's that when he missed, he missed down in the zone, which is important for a sinkerballer like Wood who struggles to hit 90 mph. The alternative is missing up in the zone, and as Royals broadcaster Ryan Lefebvre likes to say, catchers don't catch high sinkers.

Still, that Wood's having issues with his control -- only half of his 78 pitches were strikes -- is alarming. When the Royals acquired him as part of the Carlos Beltran trade, they got a 24-year-old finesse pitcher who had walked just 96 hitters in 408.1 minor-league innings, an outstanding rate of 2.12 walks per nine innings pitched. Then, in an even 100 innings of work for the Royals in 2004, Wood walked only 2.52 per nine innings pitched, which is pretty darned good for a young guy getting his first taste of the Major Leagues.

Everything was looking good, as even though I really believed (and still believe) that he has more of a future as a long reliever, guys who throw strikes and get a lot of groundball outs always have value. Wood did both, and had room for improvement.

However, in a hire that I and several other Royals fans viewed as a very good one, the Royals brought Guy Hansen on board as their pitching coach before the 2005 season. Almost immediately, Hansen began tinkering with a number of his pitchers' deliveries, with Wood being among that group. What happened to Wood's command since that time is pretty interesting:
          ***********MIKE WOOD***********
          PRE-HANSEN          POST-HANSEN
IP*          522                  124
BB/9*       2.26                 3.92
*Major and Minor Leagues
It's also worth noting that Hansen streamlined Jimmy Gobble's delivery as well, and he too has gone from being a guy with very good control who had a difficult time missing bats to a guy with very bad control who still has a difficult, albeit improved time at missing bats. It's possible that both pitchers are just getting used to their new mechanics, but I find that highly unlikely after more than one full season. Wood just isn't pounding the strike zone like he used to, and that's a problem if the Royals view him as a quality middle reliever.

To maintain a reasonable level of competitiveness, Buddy Bell's going to have to be able to count on him to soak up quite a few quality innings when one of the starters gets knocked out early in a game. Wood has to find a way to start throwing strikes again, because he's going to get pounded on a regular basis without it.
According to the Kansas City Star, the Royals will likely send Steve Stemle down to the minor leagues to make room on the 25-man roster for Mark Redman, who will make his season debut on Sunday and start against the Rays. If any Royals fans were still upset over the team deciding to keep a roster filler like Stemle over pitchers with upside like Steve Andrade and Joel Peralta, this should put an end to all of that anymosity.

Ultimately, Stemle did what he was asked to do, which was to pitch in unimportant situations with the knowledge that he'd be the likely casualty once the team got Redman back. It's better that a guy with no future in the organization fill that role than Peralta or Andrade, who could have spots in 2007 and beyond.
As much as I really appreciate the Royals ditching their road-exclusive black caps with a blue bill, I'd be even more appreciative if they'd 86 the black jersey tops too.



I know that black uniforms sell and look cool, but color me a person who isn't a fan of doing something just because everyone else is doing it. Besides, the Royals look like the Mets in those things, and that isn't good for anybody.
Finally, I'll get my first looks at Alex Gordon, Billy Butler, Chris Lubanski, and Angel Sanchez when the Wichita Wranglers visit my hometown Springfield Cardinals today at 4:10 pm CDT in the first of a five-game series.

Needless to say, I'll be at Hammons Field each and every night, and I'll be toting my trusty digital camera along with me. Watch Royals Corner for exclusive photos and perhaps even some videos later this week!