The End of the Line
Just as I expected,
The Real Question
– my
sprayahen.com
article about steroids – rankled the feathers of at least one valued
KRB
reader. I'm still not sure how stating that it's far more important to gather evidence, learn, and ask the right questions about drug usage in baseball than it is to make hurried judgments is almost always heard as, "I don't think steroids are a problem," but it happens, and people get upset over it. I've never seen a sports topic that spawns such raw emotion out of ordinary people, and that includes the media-induced "Stats v. Scouts" heavyweight bout that must be in round 2,532 by now.
Such discussion isn't a bad thing, though, as dialogue, research, and education are three necessary components baseball must use towards reaching a solution that will rid the game of 'roids. But as that is an ongoing process, let's move on to more positive matters, agree that
Scarlett Johansson is a jaw-dropping bombshell
, and talk some Royals baseball.
The Royals avoided arbitration with pitchers
Runelvys Hernandez
and
Jeremy Affeldt
by
signing both to one-year contracts
yesterday. According to rotoworld.com, Hernandez is set to earn a base salary of $1.225 million, while Affeldt will pull in $1 million. Both posted ERAs over 5.00 last year but both received raises, providing more evidence that being a Major League baseball player has to be the sweetest way to earn a living in the known universe.
Earlier this winter, Royals GM
Allard Baird
said
that Hernandez – who has never been commended for his work ethic – would have to "come in in shape and compete for a [starting pitching] job," but I seriously doubt he'll have to compete harder than, say,
Mike Wood
is going to have to in order to be moved out of the bullpen. I don't believe in jobs being won or lost in spring training games, but realistically, Hernandez would have to completely tank in Surprise to lose his grip on the fourth starter's spot in the rotation to Wood,
Jimmy Gobble
,
Denny Bautista
, or
J.P. Howell
.
Aside from being
Bartolo Colon
's fellow
Clown Perm Hall of Fame
member, I've never been sure what exactly the Royals see in Hernandez that's made them promote him as a viable option in the starting rotation. Following a strong minor league career and a solid showing in a half-season's work in 2002, Hernandez has only seen his production slip downhill, especially in the control department:


         ERA     SO/9     BB/9     
2002    4.36     5.45     2.66
2003    4.61     4.71     3.63
2004    ****OUT FOR SEASON****
2005    5.52     4.96     3.95


'
Given the sudden and seemingly random drop in his 2003 ratios, it's entirely possible that Hernandez blew out his elbow during or after the 2002 season. Sure, his ERA in April of 2003 was a miniscule 1.60 in 34 2/3 innings of work, but his strikeout-to-walk ratio was a weak 16-to-15, leaving little doubt that he'd soon "make up" for the runs he wasn't allowing. In his next 52 innings, Runelvys was pounded for 63 hits and 41 earned runs before finally revealing that he experienced quite a bit of pain in his elbow with every pitch.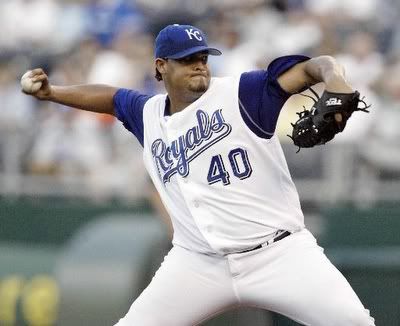 I'd like to say that, as it is for many pitchers who've undergone Tommy John surgery, Hernandez will be infinitely better in his second full season after the operation. Unfortunately, I can't. For one, he isn't particularly young like
Kerry Wood
was in 1999; he's going to be 28 years old, meaning what we see now is likely what we're going to get for awhile longer. Additionally, I don't think his quality-of-stuff was particularly high to begin with, and his inability to keep from gaining a lot of weight as the season progresses is only going cause him to lose strength and effectiveness when the temperature rises during the summer.
Unless the Royals are convinced that the last time Hernandez was actually healthy was in 2002, I don't think they have any business looking at him as a long-term solution. I think he's a below-average innings-eater at the very best, but if he can help hold down the fort while guys like Howell and Bautista develop in low-pressure situations in preparation for the 2007 season, I can live with his very large presence making 32 starts.
While Hernandez is penciled into the rotation behind
Scott Elarton
,
Mark Redman
, and
Zack Greinke
, the last spot is still very much up for grabs. Because of his experience, another ligament transplant patient,
Joe Mays
, is probably
Buddy Bell
's preference as we speak. After some careful thought, I'm not so sure that's as bad of a thing as I originally believed.
After his breakout 2001 season when he threw more than 234 innings of 3.16 ERA ball for Minnesota, Mays' star fizzled in 2002 and 2003, throwing a combined 225 1/3 innings and posting a 5.92 ERA. However, like Hernandez, Mays likely pitched all of two seasons with a bum elbow, missed all of 2004 while rehabbing, and really struggled in 2005.
The good news (yes, this is good news) is that most of Mays' 2005 struggles came after the All-Star break. In the first half, his strikeout rate was very sub-par (3.03 per nine innings pitched) in 98 innings, but he was still able to post a 4.13 ERA because of outstanding control (2.02 per nine innings pitched). After the break, Mays hit a wall, allowing a .351 opposing batting average en route to an unsightly 8.22 ERA. Terrible production from any pitcher, of course, but it wasn't at all surprising that he simply tired out in his first full year back.
I think that leaves some room for real optimism, although it comes with a catch: Mays is never going to strike out more than 5.50 batters per nine innings, so to give the Royals quality innings, he's going to have to locate his sinker exceptionally well, induce weak-contact ground balls, and have an improved infield defense make plays behind him.
Mays will have to fight off Affeldt who's undoubtedly coming into camp hungry, as the Royals instructed him to condition himself this winter to be a starting pitcher. Again.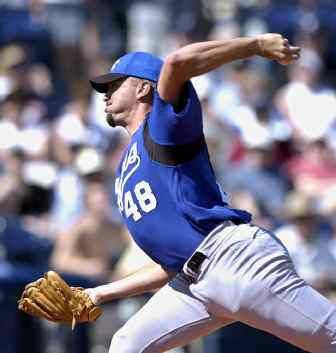 I really believe this is Affeldt's last chance to turn his sometimes-unhittable stuff into almost-always-unhittable stuff in Kansas City, giving the Royals the horse they thought they'd get in 2004. However, I'm not sure they're completely justified in turning him back into a starter:


                         2003-2005
                ERA     H/9     SO/9     BB/9
As Reliever    4.28    8.91     8.26     4.13
As Starter     4.67   10.39     5.35     3.06


'
The most curious trend there is that while Affeldt's control improves as a starter, his command within the strike zone weakens. His ERA is roughly the same, but as a result of the lower strikeout rate, he's been much more hittable as a starter. From what I've seen, most of that isn't really because of a lack of ability to start games, but rather that he tends to pitch between 88 and 92 mph as a starting pitcher when he has the ability to throw 95 mph routinely. He might need to pace himself, but in my mind, if you can throw in the mid-90s, there's absolutely no reason to dial it back for worry of endurance. Hopefully, the extra work he did this winter and a new pitching coach will get him to pitch the way he's capable. Big-time results await if he does.