KRB Visits KC Caravan
Whether it's been through writing, speaking, or gesturing, I've almost always had a knack for communicating with people around me. Needless to say, those skills have proven themselves to be invaluable as I've made my way through school and in my relationships, and they almost never fail.
However, funny things tend to happen to my speaking ability when I stand just inches away from people I admire greatly, no matter how famous they are. Let me put it this way: I'm lucky if I freeze up and no words come out of my mouth, because if I don't,
things like this
tend to happen. I guess
John Mayer
's
My Stupid Mouth
describes my uncanny ability to say way too much at the wrong time.
I thankfully didn't say anything really stupid to
Andrew Sisco
,
Mark Teahen
,
John Mayberry
, and
Brian McRae
last night at the Royals winter caravan stop here in Springfield, but I wouldn't say I exactly executed my plan to say something clever to those guys either. The brief conversations I had with them were just simple, "Good luck in 2006" and "Thanks for everything you did in 2005"-type things.
Sisco, however, had absolutely no difficulties cutting it up with the fans who showed up for the event. Consider this exchange between Sisco, Teahen, and myself after I took one picture with the two of them:

: Yeah, do you guys mind if we take another one?

: What happened? Did I blink?

: Nope. Your face was is in it.
To be fair, this was the first (and perhaps last) time I met both players, but Teahen seemed very sheepish and introverted, whereas Sisco was extremely outgoing and hilarious, displaying that special "it" quality few baseball players have.
John Mayberry
apparently has "it" too, talking about the days he was "knockin' 'em out."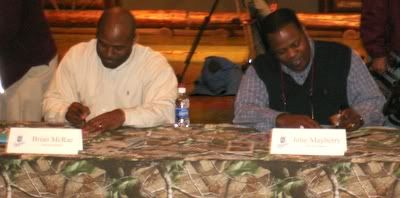 Brian McRae and Big John Mayberry signed away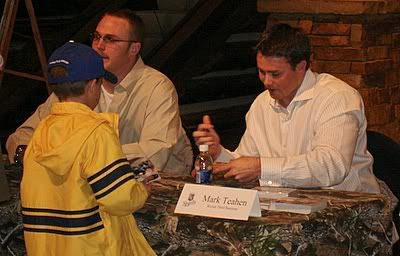 Andrew Sisco, a young fan, and Mark Teahen
Sisco and Teahen took time for a picture with
KRB
The caravan itself was kind of boring and disappointing, but sadly, it's become standard operating procedure for the Royals to mess up great opportunites to market their club and young key players in a positive light. It was great to meet a couple of guys who're going to be a part of The Next Good Royals Team, but is there any reason why the caravan has to be limited to being a quiet autograph and small-talk session? What's the harm in renting out a ballroom at a local hotel where so much more could be accomplished? I envision an event complete with a question-and-answer session with the players and announcers, autographs, and maybe a few jersey giveaways too.
The Royals may be lousy, but that only provides extra incentive to make the team popular through intelligent and fresh marketing ideas. Nobody left Bass Pro feeling more excited about Royals baseball than they did when they walked in.
And...
BaseballProspectus.com
is almost always on the cutting edge of baseball writing and analysis, but their latest project is one of the best baseball ideas I've ever seen.
Ever since
Hideo Nomo
started the Japanese influence on Major League Baseball, there's been a question of how the leagues compare to one another. The question was raised again late this season when
Bobby Valentine
, the manager of the Japan Series champion Chiba Lotte Marines, told the Associated Press that "[He]'d put [the Marines] up against the winner of the World Series," going on to say that his team would "win at least a couple of games."
Of course, such a matchup never occurred ... in real life. Enter the guys at Prospectus, who decided to start the "
Battle of Champions
," a seven-game series between the World Series champion Chicago White Sox and Valentine's Marines that will be simulated using
Tom Tippett
's
Diamond-Mind Baseball
software.
However the series turns out, it's sure to be memorable. I'm going to keep a series tally on the sidebar, but don't forget to check out the full write-ups over at BP!