Wednesday, October 03, 2007
On Monday, I wrote that Kansas City's 2007 Pitcher of the Year would not win "by virtue of being the best of a very poor group of candidates." Unfortunately, the same cannot be said for the team's runs batted in leader this past season, Emil Brown. In yet another illustration of just how anemic the Royals offense was all year, Brown's 62 RBI was the lowest team-leading total in all of baseball. The Chicago White Sox scored the fewest runs of any team in the American League, and even they had five players who picked up more than 62 RBI.

Despite having the option of giving playing time to younger and less-expensive outfielders like Shane Costa or Mitch Maier, the Royals appear to be considering the idea of bringing back the 33-year-old Brown for a fourth season in Kansas City. In 2007, Brown ate up $3.45 million of the team's payroll but didn't produce on the field, hitting a poor .257/.300/.347. When his corner-outfield position is taken into account, those numbers made him the worst hitter Buddy Bell trotted out on an everyday basis.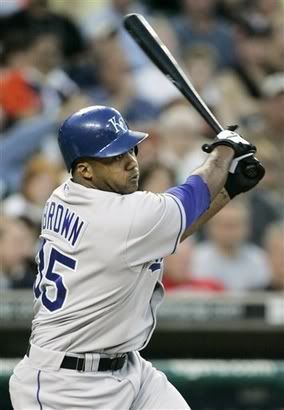 Brown has had a spot in the Kansas City outfield ever since he destroyed opposing pitchers in spring training of 2005 as an intriguing non-roster invitee. Despite his success in the minor leagues, I was initially against the minor-league journeyman being given an everyday job on the basis of his performance against Four-A pitchers in the Cactus League. However, I eventually came around to the idea. Here's what I wrote on March 24, 2005:


The point is that among the guys not making guaranteed money, Emil Brown just might be the best of a sorry lot. The likelihood is that he won't hit and will therefore lose his job, but there's definitely an Ibanez-esque upside, too. Let's just hope that if the former proves to be true, the Royals won't continue to hang on, waiting for the latter to happen.

For a couple of seasons, the former did prove to be true, as Brown posted better than an .800 OPS in 2005 and 2006. The key is that he did so making $355,000 in '05 and $1.775 million in '06, relative bargains given his production. In 2007, however, he made $3.45 million, and his 2008 salary would undoubtedly be even higher than that via arbitration.

Although it seems quite likely that Brown's abilities are on a downward slope, the question of whether or not he will ever be a productive hitter again isn't very important in this instance. The risk of allotting $4 million or more to a 33-year-old hitter coming off a terrible season greatly outweighs the reward, especially when the younger and cheaper Maier and Costa would jump at the chance to play. Brown's time as a Royal has come and gone.
The article linked above also discusses the intriguing possibility of left-hander John Bale moving to the starting rotation. After missing the first half of the year with back and neck injuries, Bale quietly did a very nice job coming out of the bullpen for the Royals last season. In 40 innings of work, the 33-year-old posted a 4.05 ERA, allowed just one home run, and had a solid strikeout-to-walk ratio of 42-to-17. Bale's season included one especially dominating appearance against the Yankees in which he struck out seven batters in 3 2/3 innings pitched.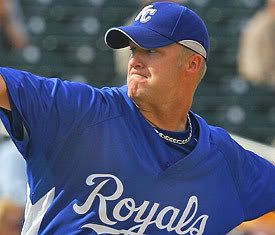 The majority of Bale's career has come as a reliever, although he did make nine starts in 2003 with the Cincinnati Reds, posting a 4.47 ERA in 44 1/3 innings. On the downside, he allowed seven home runs, but had a great strikeout-to-walk ratio of 34-to-11. Bale's left-handedness and ability to miss bats is what drew general manager Dayton Moore to sign him away from the Japanese Central League last winter. He also has a history of success in the minor leagues:

              ERA      IP     SO     BB     HR     WHIP
Minors       3.71   638.1    702    224     50     1.28
Majors       4.47   118.2    110     51     12     1.44
It appears that the Royals have a talented pitcher who, to date, has not been given the opportunity to show what he can do. In the minor leagues, he did everything one could possibly want in a pitcher: He struck out batters at a superior rate, minimized walks, kept the ball in the park, and kept runs off the scoreboard. This is a "Moneyball" pitcher if there ever was one.

Given the Royals' limited payroll, the lack of good starting pitching on the free agent market, and need for rotation help behind Gil Meche, Brian Bannister, and Zack Greinke, allowing Bale to earn a spot in the rotation is one of the best ideas to come out of the Moore regime yet. Chances are he would make the front office look good.