Gordon has a great day, KRB reports from game two...
For the second time in as many nights, the Wranglers and the Cardinals put on a thrilling show at Hammons Field, complete with a clutch three-run homer in the top of the ninth by
Dee Brown
, some stellar defense, and a young right-hander making his Double-A debut. The two clubs couldn't have picked a better time to impress; not only was a record crowd of 10,139 on hand, but I got to watch most of the game from the press box.
All of that was cool enough, but before the game began, I introduced myself to the man sitting to my right, only to find out that that man was
Rob Ducey
, a now-retired player who spent 13 seasons in the Major Leagues and now works as a scout for the Blue Jays. It's unbelievable who you can run into at a ballpark. Anyway, on to a few notes...
As I alluded to in the open, Billy Buckner made his Wichita debut last night, and had a mixed bag of results. Using a fastball that was consistently clocked in the upper-80s by the usually-inconsistent and sometimes not-working Hammons Field radar gun, Buckner did an excellent job of getting ahead in the count. As a result, he didn't walk anybody -- which was his biggest problem with High Desert -- but plunked three Springfield hitters, including first baseman Juan Richardson twice.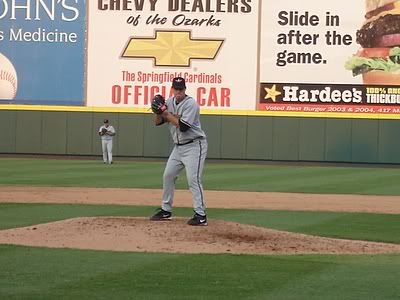 Buckner worked into the sixth before being knocked out of the game by Iker Franco's RBI single that gave the Cardinals a 4-3 lead. I wasn't overly impressed, but although he allowed eight hits in 5.1 innings, he did strike out four hitters and didn't issue one free pass, so his first Double-A appearance should be considered at least a step in the right direction.
Buckner was aided by some solid defensive play by his infielders. They were especially strong up-the-middle, as shortstop Angel Sanchez cleanly fielded every grounder hit his way and second baseman Donnie Murphy made a very nice diving stop in the hole between first and second, but the play of the night was made by Alex Gordon.

In the bottom of the first inning, the Wranglers were in a heap of trouble. Buckner had hit the first two batters he'd faced before allowing a run-scoring single to Springfield's Richardson, who went 3-for-3 on the night. With runners on the corners and nobody out, third baseman Travis Hanson looped a pop-up behind third base in foul territory. Gordon gave chase and made a spectacular tumbling grab about 30 feet away from his position.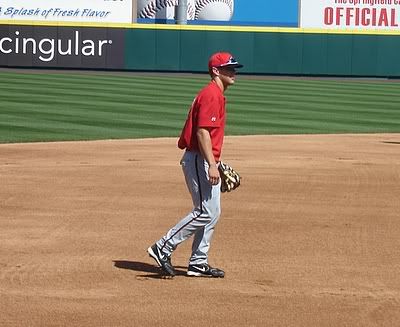 As if that wasn't enough, Gordon quickly got back on his feet and, seeing that Kevin Estrada had tagged up at third base and was trying to score, fired a missile to catcher Matt Tupman who applied the tag to complete one of the most amazing double plays you'll ever see. It was the second time in the series that Gordon's presence of mind helped him make a play few third basemen at any level could make. On Friday, he stopped a hard groundball that was headed for the left field corner, kept his composure, picked the baseball up off the ground, and threw a rocket to first base for the out.

I've written this before, but I'll say it again: the Royals have absolutely no business moving Gordon to another position to accomodate Mark Teahen. Teahen has solid defensive tools, but I'd venture to say that Gordon's fielding skills are still better.
Oh, and Smash can still hit too, as he broke out of his mini-slump with a couple of hard-hit doubles to both left and right field.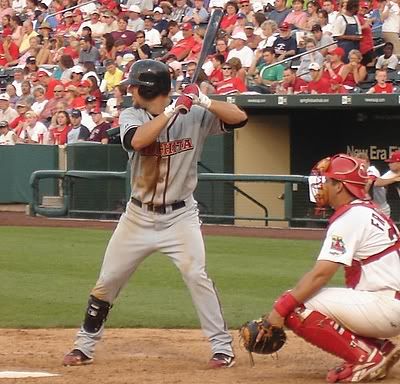 Monster
First baseman Kila Kaaihue picked up a solid base hit to right field, but still only went 1-for-4, dropping his season batting average to .181 and his OPS to a pathetic .503. Unless there's some behind-the-scenes factor dictating Kaaihue has to stay in Double-A, it's time to move him back down to High Desert where he had some success a year ago. He's clearly overmatched in the Texas League right now.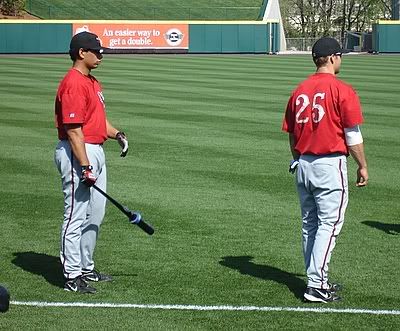 Kaaihue (left) isn't doing anything with the bat in this picture or in games

Although Kaaihue's OPS for the Mavericks in 2005 was .925, I held some concern about him coming into this season. In the hitter-friendly California League, his isolated power was "just" .193. That's nothing to sneeze at, but when you play in a launching pad, a legitimate power hitter is usually going to have that number well over .200. Still, nobody saw this total collapse coming. Kaaihue has solid plate discipline and is a better contact hitter than he's shown in 2006, but just needs to get some at-bats against less-experienced pitchers to regain his confidence.